DC200A ASSA ABLOY Door Closer- EN2-4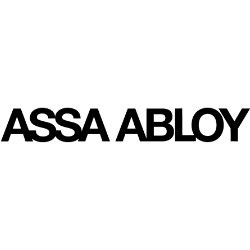 DCAA200A
The DC200A overhead door closer has adjustable power size EN 2-4 and backcheck function. It's suitable for use on timber and metal fire doors.
Read more
NEXT WORKING DAY DELIVERY
Order before 3:30pm
Description
Product Manuals
The DC200A - A Door Closer for Every Facilities Manager
In the realm of architectural ironmongery, Assa Abloy amalgamates finesse, durability, and superior engineering. Their range of door closers is renowned for quality and reliability, and the Assa Abloy DC200A door closer is no exception.
This rack and pinion closer with link arm has a variable adjustable closing force and suits a large range of applications, including fire door installation. 
Unrivalled Features, Seamless Functionality
Key Product Features:
Adjustable power size EN 2-4
Suitable for timber and metal single action doors
Rack and pinion mechanism with link arm L190
14mm height adjustable arm
Suits left and right handed doors
Suitable for doors 329mm - 1100mm wide
Maximum leaf weight: 80kg
Adjustable backcheck function above 75°
Adjustable closing speed
Adjustable latching action between 15-0°
Maximum opening angle: 180°
UKCA Marked
Certifire Approved
CE Marked
Successfully tested to BS EN 1154 and BS EN 1634-1
Suitable for use on timber fire doors up to FD120
Suitable for use on metal fire doors up to FD240
Meets the requirements of BS 8300
Silver finish
This overhead door closer is available in satin stainless steel as a special order so contact our sales team today for more information.
Efficient and Consistent Performance
Every Assa Abloy door closer is designed to provide unmatched performance, and the DC200A stands as a testament to this. Crafted with precision, this model guarantees smooth and consistent door control, ensuring safety and convenience at all times. It has effective backcheck and latching speed range, adjustable to suit your facility. 
Built for Durability
The DC200A rack and pinion door closer is constructed with high-quality materials that can withstand frequent usage. Ideal for facilities managers and maintenance contractors, it promises long-term service without frequent replacements, offering value for your investment. Always check model-specific instructions for guidance on maintenance requirements.
Adjustable Settings for Diverse Requirements
Understanding the varying demands of different establishments, the DC200A comes equipped with various adjustable settings. Whether you're looking for a slow or fast closing arc or adjustable latching speed, this Assa Abloy door closer can be tailored to meet your exact requirements.
The Assa Abloy DC200A Advantage
Universal Design for Broad Applicability
In construction, you can often grapple with finding door closers that fit diverse door types. The DC200A's universal design ensures it can be seamlessly integrated with most doors, making it a favourite among installers. It has thermodynamic valves for consistent performance. The front facing regulating valves ensure regularity over a range of temperatures.
Safety First
Prioritising safety, this door closer ensures that doors shut securely every time. By preventing doors from slamming or being left ajar unintentionally, it plays a pivotal role in ensuring security and reducing energy wastage. Whilst it features backcheck function, we'd always suggest fitting a separate wall mounted or floor mounted door stop with any door closer. 
Why the DC200A is Perfect for Your Building
For those in facilities management, the efficacy and longevity of door hardware cannot be compromised, particularly fire door ironmongery. The DC200A's precision engineering ensures that every door closer delivers impeccable performance without issue.
Its adaptability to various door types and adjustable settings make it a top choice for maintenance contractors and facilities management companies alike. Its consistent performance and robust build ensure that it's an investment that pays off in the long run.
Choose Assa Abloy Today
In a market inundated with door closers and door hardware, the Assa Abloy DC200A closer shines through as a paragon of quality and performance. Whether you're a facilities manager, a maintenance contractor, or involved in the general construction trades, this model is tailored to meet your expectations. Invest in the best with a brand and model you can trust, every single time.
Read More
Reviews (0)