DC135A ASSA ABLOY Door Closer - EN 3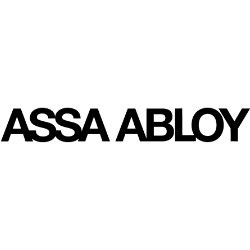 DCAA135A
The DC135A overhead door closer from Assa Abloy has a power size EN3 and is suitable for use on fire rated doors. It is CE and UKCA marked. 
Read more
NEXT WORKING DAY DELIVERY
Order before 3:30pm
Description
Product Manuals
DC135A Assa Abloy Guide Rail Door Closer
In architectural ironmongery, the name Assa Abloy means quality, durability, and reliability. One of their rack and pinion door closers is the DC135A, which can be installed on both timber and metal fire doors.
Engineered to be robust and reliable, this door closer is an absolute must-have for facilities managers, maintenance contractors, and construction professionals who need a cost effective door closing solution.
Key Product Features:
Fixed power size EN 3
Rack and pinion mechanism
Complete with G193 guide rail arm
Non-handed
Suitable for doors 510mm - 950mm wide
Maximum leaf weight: 60kg
Adjustable backcheck function above 75°
Adjustable closing speed
Adjustable latching action
Suitable for timber and metal doors
Maximum opening angle: 180°
UKCA Marked
CE Marked
Successfully tested to BS EN 1154 and BS EN 1634-1
Suitable for use on timber fire doors up to FD120
Suitable for use on metal fire doors up to FD240
Meets the requirements of BS 8300
Silver finish
Benefits of Choosing the Assa Abloy DC135A
Energy Efficiency
A door left ajar can lead to significant energy wastage, especially in temperature-regulated environments. The DC135A ensures doors close securely after each use, aiding in maintaining consistent room temperatures and subsequently reducing energy costs. Having the correct fire door seals installed also helps in managing airflow throughout a facility.
Enhanced Safety
In emergency situations, a well-functioning door closer like the Assa Abloy DC135A can be the difference between safe evacuation and potential hazards. By ensuring doors close securely, it also prevents unauthorised access and ensures that fire doors function as intended, providing an essential layer of safety and security.
Cost-Effective Solution
The durability and construction of the DC135A make it a cost-effective solution for a wide range of internal doors. This overhead door closer has a rack and pinion mechanism paired with a guide rail arm. This combines all the required functionality of an efficient closing mechanism, with a pared-back, stylish design.
User Convenience
A door that slams shut or doesn't close properly can be a nuisance as well as a safety hazard. With the DC135A's smooth and consistent operation, building occupants and users can move freely without worrying about doors slamming shut, or being difficult to open. This ensures a positive and safe experience for everyone within the facility.
Why the Assa Abloy DC135A Door Closer is a Must-Have
In a world where functionality and safety go hand in hand, the Assa Abloy DC135A overhead door closer stands out as a beacon of excellence. For those in the realms of facilities management, construction, and maintenance, this model is a clear winner. 
Not only does it offer all of the standard features that enhance door operation, but it also brings tangible benefits that directly impact energy savings, safety, and user experience.
By choosing the Assa Abloy DC135, you're investing in a future where doors are more than just access points. They become integral parts of building management, offering security, efficiency, and peace of mind. Combine an Assa Abloy door closer with one of our fire door ironmongery kits for the ultimate fire door hardware solution. 
For the best in door controls and architectural solutions, trust Assa Abloy – a brand synonymous with excellence. Choose the DC135A and redefine your facility's door hardware standards.
Read More
Reviews (0)