Strand FP200 Roller Blind Finger Guard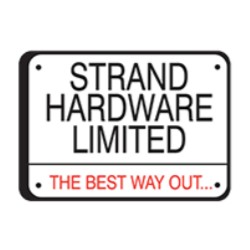 IBFP200
The Strand FP200 roller blind finger guard is for installation to the front, hinge cavity side of a hinged door, whether left or right hand opening.
Read more
NEXT WORKING DAY DELIVERY
Order before 3:30pm
Description
Product Manuals
Strand FP200 Roller Blind Finger Guard
The Strand Hardware FP200 finger guard is for installation on the hinge cavity side of a side hung door. The roller system finger protector is suitable for most single and double action doors, including automatic doors, and is easily face fixed to the doors and frames.
Key Features:
Satin anodised aluminium with black fabric roller blind
1925mm height
260mm maximum fabric travel
Screw fixing
Suitable for use on FD60 fire doors
Tested to EN 16654
Tested to BS 8613 - Class 2
Tested to 1 million operations
Complies with EN 16005
Awarded the German Safety Mark
This unit has an easy-clean aluminium housing so it is easy to maintain as part of your regular door maintenance program. The black fabric material roller is made from fire retardant material that is kept under constant tension, giving a smooth action during the opening and closing cycle.
Door Finger Guards
A trapped finger in door opening cavities is a painful yet largely preventable injury. Finger guards for doors are designed to eliminate the tens of thousands of incidents that occur each year. Finger tip guards should be installed in areas where children are using the space and may possibly be unsupervised at times. Door finger guards for schools, hospitals, and other commercial spaces are designed to cover the gap created on a side-hung door when in use. Supervision during use is still recommended by the manufacturers when finger guards are installed.
Finger Trap
Trapped fingers are an all too common injury, particularly in school-age children. Finger guards are sometimes referred to as finger traps, which is the exact opposite of their function. Anti-finger traps is a much more accurate description of these door safety products. They prevent finger trapping in small or large hinge gaps by covering the gap with a rubber, fabric, or metal barrier, with some brands producing integral finger guards for new build projects and large-scale refurbishments.
Finger Protectors
Door finger protectors come in various designs and finishes and are perfect to retrofit to existing doors, easily and quickly covering the gap between the door and frame. The Little Fingers finger protector is an all white PVC nitrile guard which is available as single units for front and back hinge side installation, or as a kit. We also sell the Lorient LAS90 range of guards as single items or a kit to install on both sides of the door hinge. This product has a black silicone gasket with an anodized cover strip. The Raven RP62 finger guard is the same 2100mm height as the Lorient finger protectors, suits doors with a 180 degree opening, and has a black EDPM rubber gasket.
If you require matching door finger protection for the hinge knuckle side of the door, contact our sales team today and we can order the Strand FP100 unit in various finishes. This door finger guard is 1800mm high and suits hinges with a 12mm-14mm diameter knuckle.
The Strand FP200 finger trap protection is available in lengths between 325mm and 2500mm as special orders and in a variety of standard and special finishes. 
Read More
Reviews (0)