Dorgard is a fire door retainer that enables fire doors to be held open in a legal and safe manner. They are an alternative solution to electromagnetic door closers but as they are a wireless system, they are easier to install and release the door in the event of a fire. You will still require a mechanical door closer but you won't have to worry about getting power to the door as the device runs on C batteries. They are a really cost effective device.
Dorgards prevent the risk of people manually propping doors open with door wedges and fire extinguishers. When people do this, they often forget to close them again after and the whole purpose of a fire door is to compartmentalise a building to prevent the spread of smoke and fire. It is also illegal to do this as it is a breach of fire safety legislation and it can put people in serious danger. Anyone caught doing this can face prosecution with a fine or even imprisonment.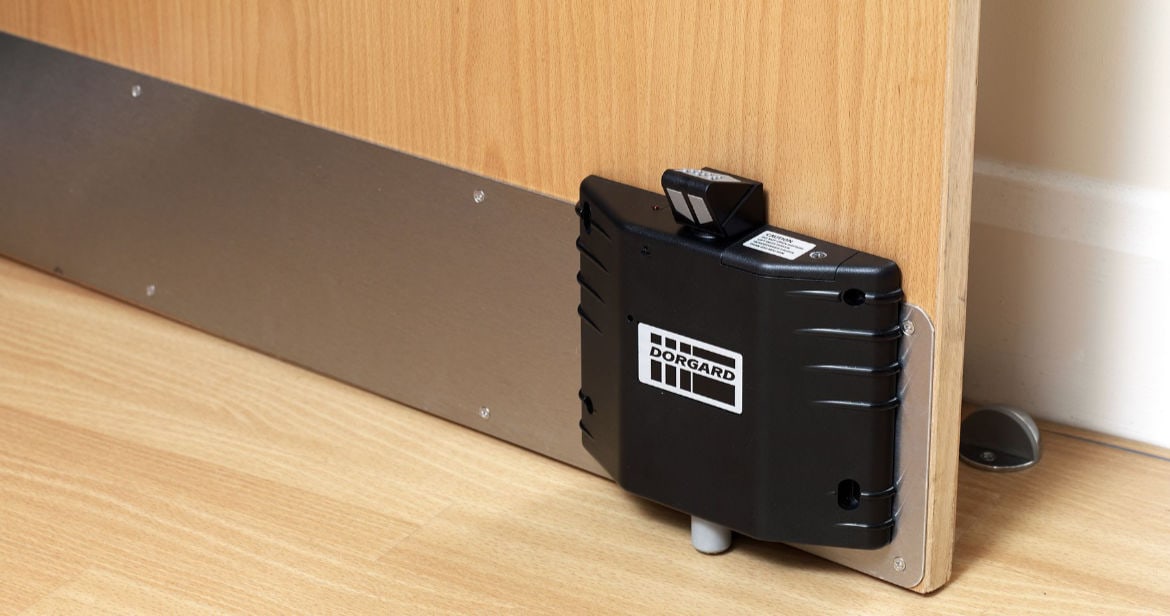 These units work by "listening" for an alarm that sounds for more then 14 seconds and then they retract their rubber foot, allowing for the door to close with the overhead closer. Keeping doors open can be beneficial for air circulation within buildings and there are usually times when people need to be able to pass through them quickly and easily. The Dorgard Fire Door Holder can help with this and it conforms to all regulation requirements including the following:
BS EN 61000-6-3:2007 Electromagnetic compatibility (EMC). Generic standards. Emission standard for residential, commercial and light-industrial environments.
BS EN 50130-4:2011 Alarm systems. Electromagnetic compatibility. Product family standard. Immunity requirements for components of fire, intruder, hold up, CCTV, access control and social alarm systems.
BS EN 1155:1997 Building hardware. Electrically powered hold-open devices for swing doors. Requirements and test methods.
BS EN 1634-1:2008 Fire resistance and smoke control tests for door, shutter and, openable window assemblies and elements of building hardware. Fire resistance tests for doors, shutters and openable windows
The Dorgard can be foot operated should the door need to be closed manually, they have a 24 month warranty with the manufacturer and they are a reliable and discreet product.