The Arrow 624EM electromagnetic door closer is a truly versatile 24V DC unit. It is universal which means that it is adaptable for installation in Figure 1 (Pull Side), Figure 66 (Push Side) and Figure 61 (Transom) mounting application. It comes complete with parallel arm brackets to cater for this. It is an EN Size 4 suitable for doors up to 950mm wide and 60kg in weight in Fig 66 application and doors up to 1100mm wide and 80kg in weight for Fig 1/61 application.
One of the biggest benefits of this product for tradesmen is that they can literally take it to any site that needs an electromagnetic closer on a standard door, without the need to worry about its suitability – there is nothing worse than ordering an incompatible unit and needlessly wasting time and expense because of such a dilemma. It is also supplied with two handy little cams that dictate the function, so you can choose to put the closer in either Hold Open or Swing Free mode, depending on which you use.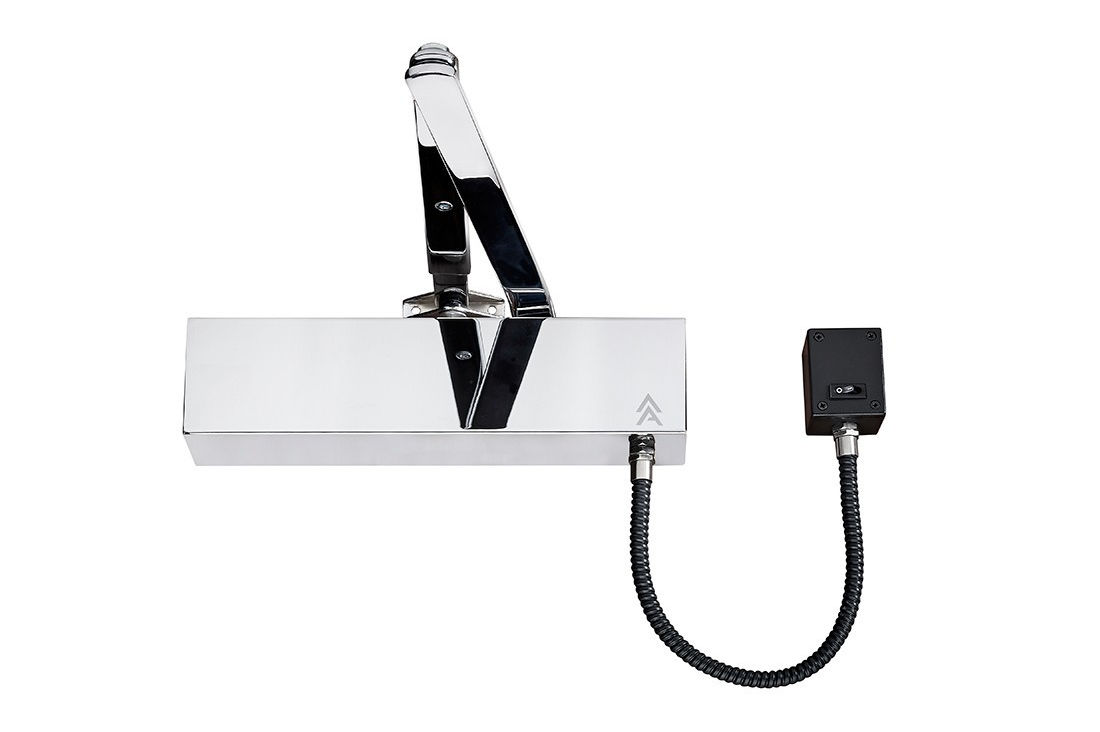 It's also super easy to install, as long as you don't deviate from the template. Often installers can make the disastrous mistake of simply installing new closers using the same holes left by its predecessor. Usually this would work ok but you need to be mindful that the original closer might not have been installed correctly in the first place. Sure, it might have worked for a while but when a closer is installed incorrectly, it will eventually stop working (if it worked to begin with) and can put pressure on the door itself. When the new one is installed in the same place, it might not work at all, leading to the installer believing it to be faulty. This is quite a common occurrence and something that can easily be avoided if instructions are followed.
Polarity is not important, it's a simple case of connecting the two wires in the junction box to the two wires from the coil in the body.*
*Handy Tip: Using a couple of 2-way lever connectors can be quite useful as they sit neatly along the bottom of the closer cover and make this task even simpler. If you're installing it in Fig.1 application with the hinge knuckles on the right, you'll need to carefully make the wire from the coil sit along the body – just don't trap them as it can stop current flow.
It is only once the closer is on the door that you should attempt to make any adjustments to the latching action and/or closing speed in small increments until it is just right.
The 624EM is a reliable unit and has a 2 year electrical warranty. As one of our least expensive emag closers, it's also great value for money.